Builders can create an account for exclusive discounts
Builders click HERE to create an account
HOT DEALS GOING ON RIGHT NOW!!
Get a set of select comp. series bags for $20 off! Pay only $60 for set of 4! Coupon code: Drivn20
"RECKONING" 5/8 Comp Series Bag (SET OF 4)
SPACE GUITAR COMP SERIES 5/8 SPEED (SET OF 4)
ZEUS COMP. SERIES 5/8 SPEED (SET OF 4)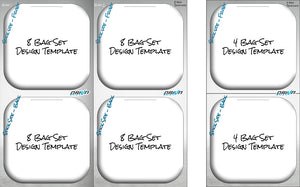 FREE 4 set and 8 set bag design templates
Proportionally accurate templates set up to provide quick and accurate design samples to your customers for approval. Flex your creativity and we'll take care of the rest. Just use our Design Studio to order your custom designed bags, created by YOU! Available HERE
Subscribe to our newsletter
Promotions, new products and sales. Directly to your inbox.